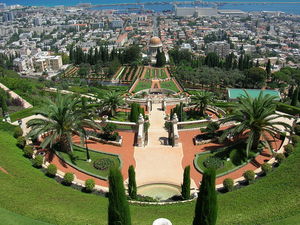 Haifa Luxury Boutique Apartments
Sinai 1 is located in the midst of Haifa's world famous attractions: the Mediterranean seaside, the Carmel National Park, the International Convention Center and the Baha'i Gardens. And, of course, it is placed at the heart of the commercial area, with its cafes, restaurants, shops and more.

Haifa is home to the largest Israeli port and also to an active beach life. The hectic city is surrounded by abundant nature sites. All this and its interesting mix of modern and older districts, its known religious coexistence with churches and mosques, its mountain and sea, make of Haifa a perfect destination for tourism. To many, Haifa-tourism is one word!

Some examples of Haifa's religious coexistence: the World Center of the Bahai faith, a complex on the slope of the Carmel famous for its magnificent hanging gardens. At the foot of the gardens lies the picturesque German Colony, founded by German Templars in the nineteenth century when they came to the Holy Land to establish a Christian community. Not far from there, in the Kababir neighborhood lives Israel's only Ahmadi Muslim community. The Ahmadiyya is an Indian sect of Islam, which promotes peace among nations and opposes religious coercion. Their large mosque is worth visiting as well.
Haifa Tourism
Haifa and Haifa's attractions can be experienced by car, public transportation or by foot.
If foot is your option: there is a Haifa tourism project known as "step tours". Four marked routes which begin on Yefe Nof (Panorama) street and proceed down to the beach area. Other choices are nature routes descending the mountain along one of the rivers -Ezov, Akhuza, Lotem and Si'akh-. From the coastline it is nice to go up the mountain via the cable car or the "Carmelit", Israel's only subway, a unique Haifa attraction. Once in its pinnacle, a stroll along Louis Promenade will allow you to enjoy the spectacular view of the city that hugs the sea.
However, there is much more to Haifa's tourism and Haifa's attractions!
For instance, its abundance in institutions devoted to culture, art and science, such as the National Maritime Museum, the National Museum of Science and Technology, The Haifa Museum or Art or The Tikotin Museum of Japanese Art… Another mecca of Haifa tourism and business in Haifa is the annual film festival and, last but not least, a variety of eateries to fuel your visit to the beautiful Haifa.